| | |
| --- | --- |
| | |
Though not the first to use a side-by-side 2x 18650 cell configuration, what Fenix did with the TK35 was to make one of the most compact lights in this category. Very well liked in its stock form, the TK35 has now been upgraded to the 'Ultimate Edition' on test here. Fenix have used the monster MT-G2 LED in neutral white giving you a powerful pocket floodlight.
Author's note: due to the general tendency for reviews to become ever longer, this review is presented in a different format to my previous ones, with all but two images being animated to attempt to reduce excessive scrolling. You may need to wait for the images to load fully.
A quick look round the TK35UE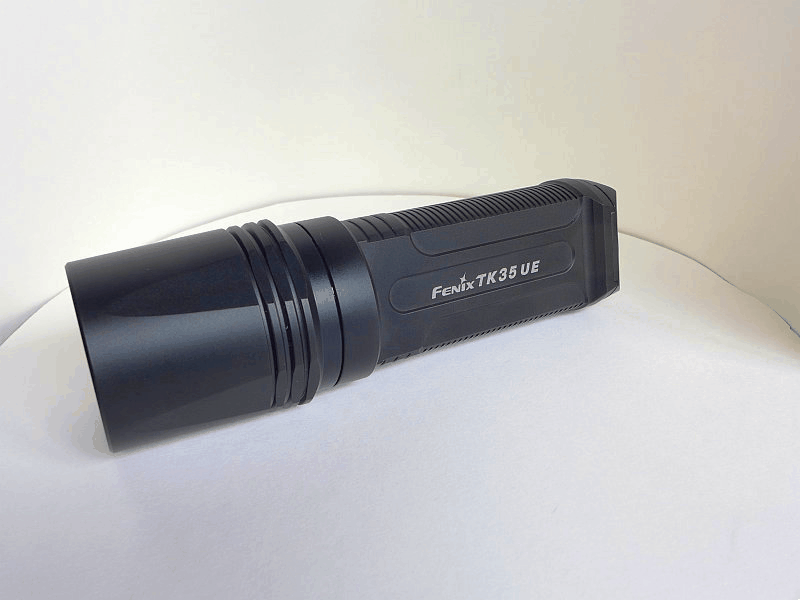 The monster MT-G2 LED
Taking a more detailed look:
The photos here show; the packaging, box contents, holster, disassembled light, power and mode switches, threads, contacts in the head and on the battery holder, some details of the battery holder and the big MT-G2 LED.
Looking around the holster, it has a hanging loop and belt loop. Unlike most holsters, there is no flap, but instead a Velcro strap that is used to secure the TK35 UE in the holster.
The beam
The beam is neutral white (the tint is not well represented here), and nicely floody thanks to the large emitter and orange peel reflector.
The standard TK35 was considered to have a beam somewhere between the TK41 and TK45. The TK35 UE has more flood than the TK45 and over twice as bright.
A control shot of the TK41 (XM-L version) is included for comparison.
Modes and User Interface:
There are 4 steady white output levels (Low, Medium, High and Turbo), and two flashing modes (SOS and strobe). The TK35UE's main power switch is a forward-clicky.
To access the flashing modes, press and hold the mode switch. To change flashing mode, again press and hold the mode switch. Switching off the light or a single click of the mode switch reverts to steady output.
Batteries and output:
The TK35UE will run on 2x 18650 (in 2S1P) or 2x CR123 (in 4S1P).
Keeping this test 100% Fenix, the TK35UE was powered using the Fenix ARB-L2S 3400mAh 18650 protected cells charged with a Fenix ARE-C2 charger.
To measure actual output, I built an integrating sphere. See here for more detail. The sensor registers visible light only (so Infra-Red and Ultra-Violet will not be measured).
Please note, all quoted lumen figures are from a DIY integrating sphere, and according to ANSI standards. Although every effort is made to give as accurate a result as possible, they should be taken as an estimate only. The results can be used to compare outputs in this review and others I have published.
| Fenix TK35UE using ARB-L2S 3400mAh 18650 | I.S. measured ANSI output Lumens | PWM frequency or Strobe frequency (Hz) |
| --- | --- | --- |
| Turbo | 1849 | 0 |
| High | 796 | 0 |
| Medium | 270 | 0 |
| Low | 33 | 0 |
Store frequency alternates between 15.3Hz and 6.6 Hz
This runtime trace is on Turbo output mode (reset at every step down) and using 2x Fenix ARB-L2S 3400mAh 18650 cells.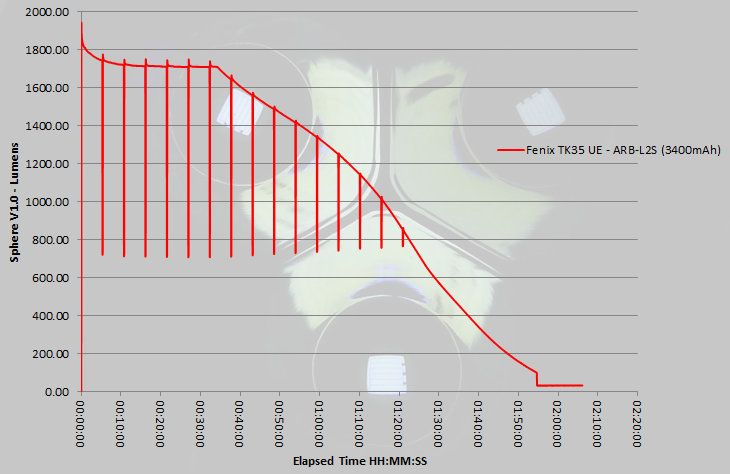 Wrapping-up
Fenix really have made the most of the 2x 18650 side-by-side format of the TK35 by equipping it with an LED that can use all the available power. As you can see in the runtime trace, when the TK35 UE is fitted with quality high-capacity cells, it can maintain an output over 1700lm for 35 minutes! An hour after fist switching into Turbo, the output is still 1300lm. For a light this compact, the performance is fantastic, and this is indeed the 'Ultimate' TK35.
When moving up from a single 18650 light and its performance limits, the TK35 UE rewards you with double the output but without doubling the length. In fact it is not that much bigger than some single 18650 lights, and the rectangular battery tube is very comfortable to hold.
As with most Fenix lights there is the dreaded step-down from Turbo to High after 5 minutes of runtime. However, in this instance I will forgive Fenix, as a light this compact pushing out over 1800lm does get hot quite quickly. I would agree that the user should have to reactivate Turbo if they want it.
The MT-G2 LED is a large die size, and therefore ideally suited to a flood beam. In my opinion, the requirement for throw is much more limited than for flood/area lighting, as the majority of people want to see what they are doing or light up an entire room or the area they are working in. This makes the TK35 UE an excellent general purpose light with a fantastic neutral white 1800lm to call upon when needed.
Fenix TK35UE test sample provided by Fenix for review.