| | |
| --- | --- |
| | |
Here I would like to share with you my experiment results, most likely the 21700 cell discharge curves with constant current, constant power, and their performance on different flashlights. This should give you some clear idea regarding which cell to use under which circumstances.
More than half of the tested 21700's are Samsung ones, so for each discharge configuration, I make a single plot for the Samsung 21700's and another plot for the selected Samsung ones vs. the other brands. For the
20A
and
60W
discharge, since they are way too high for most of the cells, a single plot is enough.
Note that:
Samsung has revisions to existing cell models, and sometimes a new version can perform noticeably better. For example, a 50E version 2 (=50E2) performs much better than the first version, while the 50E version 3 (=50E3) performs similarly to the version 2. So here I include the old 50E and 48G, for your comparison with the newer 50E3 and 48G2.
The 40T version 2 (=40T2) also exists, but I see no difference when comparing it with the 40T version 1, so here I only put the 40T version 1 curves.
48X is known as a specially upgraded version of 48G. It has a pretty long cycle life and performs better than 48G. But note that I only tested the 48X version 2 (=48X2), and I don't know the difference between version 1 and 2. A snapshot of the official document:
50S is the most powerful high capacity 21700 known right now (2020/12). It is rated as 20A continuous discharge (without temperature cut), 35A non-continuous discharge (with 80℃ temperature cut).
Although that Tesla 21700 is made by Panasonic and its performance seems reasonably good, I personally won't recommend it, because its positive end is usually made of aluminum, not quite robust, and is recessed. So an additional top will usually be soldered on to such a cell with laser by some 3rd party, to make it useable in flashlight and be able to be sold in the retail market. But that introduces some risks: the cell is thus more vulnerable to shock/heat/etc and may be prone to leak. A few pictures demonstrating the leakage (they are shared by someone else): [1] [2] [3]
I didn't include some cell models like MuRata/Sony US21700VTC6A, LG INR21700 M50L, etc, maybe I'll do that in the future...
Here are my discharge curves:
10A
15A
20A
20W
30W
40W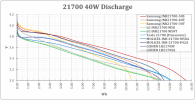 50W
60W
Here are the performance comparisons of some selected cells, on some flashlights. It may be a bit difficult to correlate the discharge curves of a cell with its real performance in a flashlight, and that's why I conduct these tests.
The steps I did to obtain these curves for each cell model:
Put a fully charged cell into the flashlight, and switch to the maximum output of that flashlight. A fan is on to provide additional cooling and extended turbo runtime.
Switch off the flashlight once the thermal step-down behavior is observed.
Cool the flashlight for quite a while, until it's fully cooled. Then switch to the maximum output of that flashlight again. That's why there are many "spikes" in the curves. Note that the flashlight can also step-down due to low voltage, that's why you see some "stages" in the curves.
When the flashlight shows a low voltage warning, switch to the next highest output level, and so on.
So such kind of curve is essentially the most demanding situation you can have on a flashlight, and the flashlight output curves with different cells in this situation can greatly help you decide which cell to use.
For these regulated ACEBEAM flashlights, its output can be maintained as long as the temperature limit is not exceeded and the cell voltage is high enough.
That bundled ACEBEAM 21700 performs poorly because it's made from LG M50 or M50T (much weaker than most of the other choices, as seen in my discharge curves), and the protection circuit introduces also more resistance, making it even worse. This is also the situation commonly encountered with a branded/bundled 21700 with a protection circuit. They are usually made from one of the worse cells but rather expensive.
These two flashlights utilize FET (direct-driven) in their turbo. In this situation, a cell performs well as long as it can hold high voltage for some short period (i.e., non-continuous discharge). Actually the newer high capacity Samsung cells (
50S/48X2/50G2/50E3
, etc, not all tested here) all perform well in such a situation, their output is usually close to
30T/40T
in a short period, as long as the current drawn is not horribly high.
That's all, thanks for reading.
Zuletzt bearbeitet: